Canadian photographer Don Gutoski has been named the 2015 Wildlife Photographer of the Year by London's Natural History Museum for his piece titled "A tale of two foxes."
Aside from its obvious beauty, there are a few more reasons why Don Gutoski's photograph took the grand prize. First of all, this is rare behavior to witness, let alone catch on camera. The photo was snapped in Wapusk National Park, Canada and captures a red fox hunting an arctic fox. Higher temperatures due to global warming have shifted the range of red foxes further north, meaning they are coming into contact with arctic foxes more often.
Advertisement
There is also huge amount of technical prowess needed to capture this photo. Taken during the early winter's -30 degrees Celsius (-22 degrees Fahrenheit) chill and poor light conditions, the photographer still managed to pick up the vibrant colors and crisp lines against the snowy backdrop. Don Gutoski is also just an amateur photographer, who uses photography as a hobby to unwind from his work as an emergency room doctor.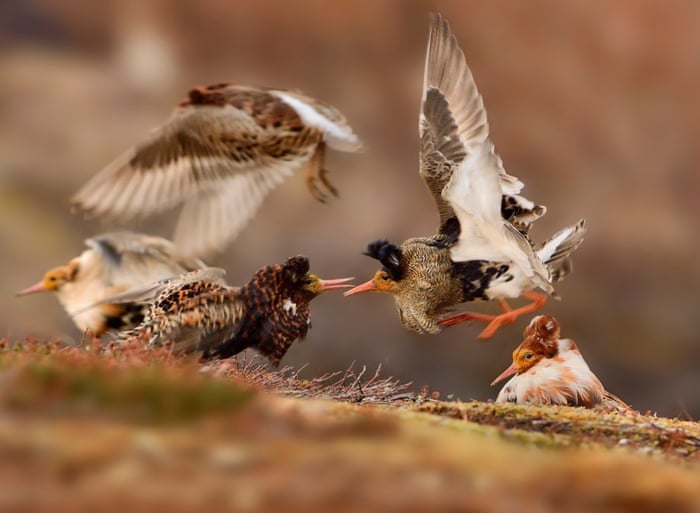 Image credit: Ondrej Pelánek/Natural History Museum
The Young Wildlife Photographer Grand Title winner was a Czech boy called Ondřej Pelánek for a photo called "Ruffs on display." On a summer trip to the northern tip of Norway with his father during the midnight sunlight, he caught a battle between two male ruffs, fighting over territory and females. They show off their status through the color of their plumage, with those black tufts showing who is the alpha male.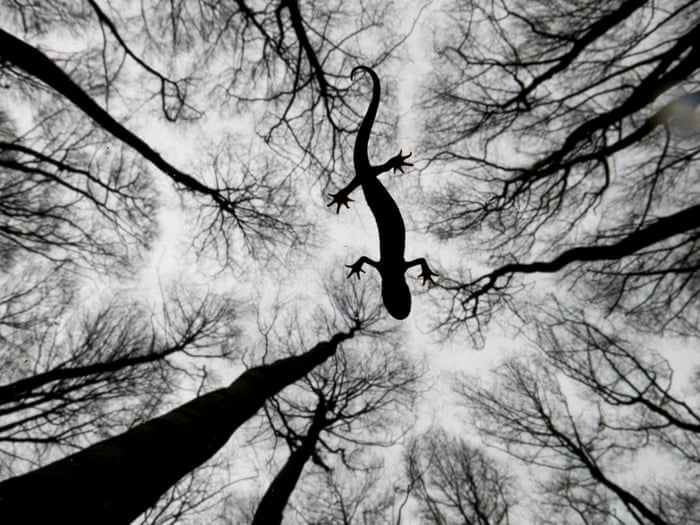 Image credit: Edwin Giesbers/Natural History Museum
Advertisement
The winner of the reptile and amphibian award was Edwin Giesbers who shot the silhouette of a great crested newt, floating near the surface of a stream in the Netherlands. To snap this endangered species, Giesbers had to don his wetsuit, get into the water on a cold April morning and stay motionless underwater until the moment was perfect.
Image credit: Michael AW/Natural History Museum
The winner for the underwater prize was Australian photographer and author Michael AW. Shot along South Africa's Wild Coast, he captured a Bryde's whale amid a feeding frenzy during the annual sardine run, which sees billions of sardines migrate across the coastline.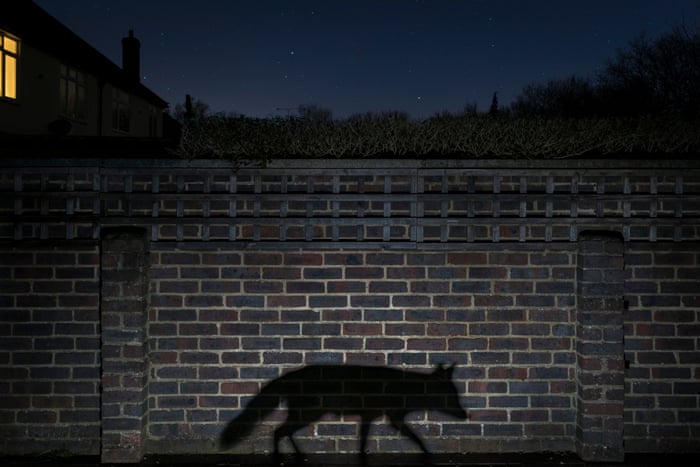 Image credit: Richard Peters/Natural History Museum
Advertisement
The urban photography award was given to Richard Peter who managed to catch an extremely sly and stylish shadow of a fox during a moonlit forage in Surrey, England.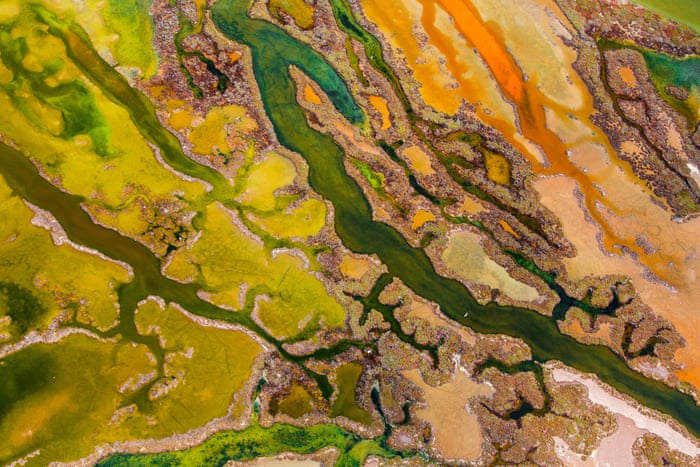 Image credit: Pere Soler/Natural History Museum
The "From the sky" award was given to the photographer who snapped "The art of algae." Spanish photographer Pere Soler took an aerial shot of Bahía de Cádiz Natural Park on the coast of Andalucia in Spain. The rich mosaic of color and texture only happens for a few weeks in spring. As the temperature warms and saltiness of the water changes, the wetlands see the bright green of seaweed mix with a multicolored microalgae bloom. The other colors come from white salt deposits, and sulphate-loving bacteria and iron oxide causing orange sediments.
You can view all the other award winning photographs – including categories such as "Birds," "Plants," "Time Lapse," and "Invertebrates" – on the Natural History Museum website. Alternatively, you can visit the exhibition at the Natural History Museum in London from October 16, 2015, until April 10, 2016.